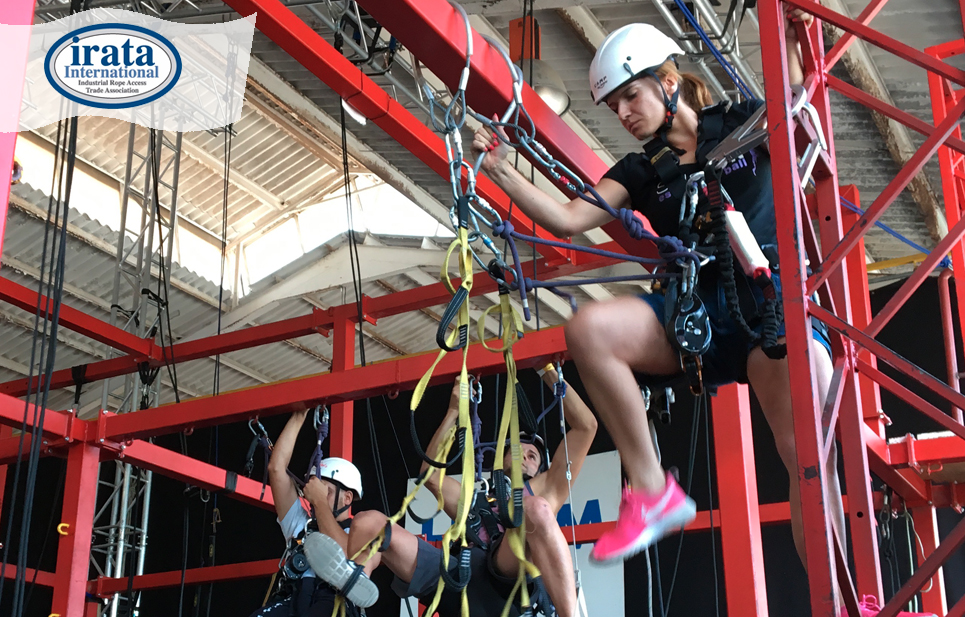 About this course
IRATA Up Level
IRATA  is the maximum certification worldwide to be a professional vertical works.
The IRATA International rope access system is a safe working method in height, where ropes and related equipment are used to gain access to and from the work position, and have support in the meantime.
The advantage of using methods of access by ropes is the safety and speed with which workers can arrive and return from difficult points to carry out their work.
With this training, you will obtain the title of Technician of access by IRATA strings .
IRATA LEVELS
TECHNICAL LEVEL 1: Able to perform a certain number of vertical or vertical work techniques always under the supervision of a level 3 technician.
5 days plus 1 exam.
Content LEVEL 1:
Relevant legislation, guidelines and norms.

Knowledge of the risk statement and security method.

Work permit and systems.

Exclusion zones.

Work practices and organization works.

EPI categories.

Selection, use and maintenance of the equipment.

Controls and inspection of the equipment.

Hazardous substances.

Curriculum and certification systems.

Notebooks of records and their purpose.

Types and anchoring systems.

Angular loads.

Knowledge of the fall factors.

Knowledge of the lifting system of loads and hoists.

Knowledge of injuries injuries and management of casualties.
TECHNICIAN LEVEL 2: Able to install work ropes, take rescues and develop other vertical or vertical work techniques under the supervision of a level 3 technician.
5 days plus 1 exam.
Content LEVEL 2:
The 16 points of LEVEL 1 AND THE NEXT OF LEVEL 2.
Strained lines (zip lines) and angles in Y.

Horizontal lifelines.

Selection of anchors.

Teamwork.

Communication.
TECHNICAL LEVEL 3: Able to take full responsibility for work projects, with the skill and knowledge required at levels 1 and 2, extensive knowledge of advanced rescue techniques, holder of a first aid certificate, and knowledgeable about the system of IRATA certification.
5 days plus 1 exam.
Content LEVEL 3:
Levels 1 and 2

Evaluation of risks and prevention methods.

Inspection of equipment, organization, and control of PPE.

Organization of rescues.
REFRESCO EVERY 3 YEARS: The Validity of the titles is 3 years. There will be a refresher course at the same level where it can be applied up to 6 months before its expiration while maintaining the initial date.
5 days plus 1 exam.
The minimum required is 4 days + 1 exam.
PROGRESSION BY THE IRATA SYSTEM AND VIGÉNCIA OF THE TITLES
AGE Minimum: 18 years.
In case of access from one level to another: The IRATA record of hours and tasks (candidates who aspire to the next level must wait at least 12 months and have a minimum of 1000 hours worked, pointed and recognized in their log book .)
Applicants to the courses for any of the three levels of IRATA must have a good physical condition that does not prevent them from developing this type of work, in addition to presenting a current medical review or signing a medical access certificate.