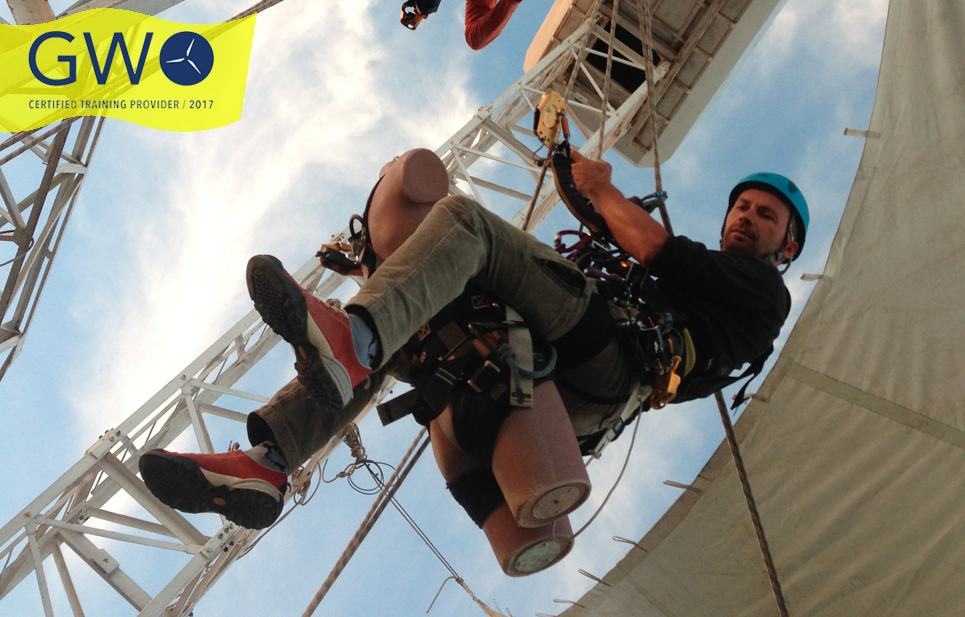 About this course
Heights Module
GWO Training Complete Module of Heights (05/28/2018 – 05/29/2018) ……….

400,00€ ( Los cursos de formación NO REGLADA no incluyen el 21% de IVA )Add to cart
GWO Training Complete Module of Heights (Open Registrations) …………….

400,00€ ( Los cursos de formación NO REGLADA no incluyen el 21% de IVA )Add to cart
---
GWO Heights Module
Global Wind Organization is an association of all manufacturers and companies in the wind sector that promote safety training standards for an industry where more than 20 million people operate worldwide.
This qualification is essential to access a wind turbine.
CONTENT MODULE INITIAL HEIGHTS
Introduction

National / international legislation

Harness, adjustment and exhaustive inspection

Vertical fall arrest systems

Anti-fall safety ropes

Securing safety cords in working position

Back-up system for exercises

Practical exercises

Workshop: risks and threats

Emergency procedures

Review of PPE's.

Rescue devices

Trauma by suspension

Rescue exercises

Evaluation
The objective of this course is to be able to work with safety standards at heights, evacuate / evacuate a partner after learning emergency evacuation techniques with mechanical lever brake release devices and self – descending steering wheels or lifts with brake on hydraulic or air compartment.
DURATION: 16 HOURS